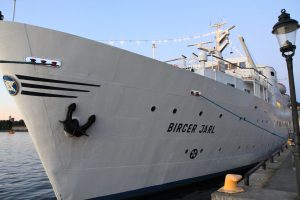 Type of vessel: EX Cruise ship, Night passenger ferry. Today not classed but can steam by own engines. A very good Hotel !
Built: 1953 by Finnboda shipyard, Stockholm, Sweden
Material: Steel
LOA: 108 m
Breadth: 14.25 m
Draught: 5.10 m
Air draught: 25.00 m
Gross ton: 3564
Net ton: 1569
Class: Lloyds register +100A1 Ice class +LMC
Sleeping guests: 480 in 209 cabins
Main Engine: Man / B&V / Alpha 12V 28/32 A 2795 KW
Propulsion: Pitch propeller for heavy ice.
Speed: Cruising 14 knots (600 lit/hour)
Full 16 knots
Tank capacity: Fuel 110 m3
Fresh water 80 m3
Black and gray water 230 m3
Lubrication oil 4 m3
Ballast tanks N/A
Generators: 1 x Scania 346 KVA
1 x Scania 258 KVA
1 x Volvo 242 KVA
Emergency Scania KVA N/A
Bow thruster: Brunwoll 220 KW
Sewage water plant: Orca II
Oily water separator: SKITS/S
Water maker: Atlas
Separators: Oily water Westphalia
Engine oil Westphalia
Navigation equipment: 3 radars, Autopilot, Echo sounders, Gyro compass,
NAVTEX, Log, DGPS with plotter, GPS with plotter,
Full GMDSS, 3 VHF, AIS and more.
Safety equipment: According to SOLAS and Lloyds Class
Fire fighting: According to SOLAS and Lloyds Class
Sprinkler system: The whole ship.
Accommodation: 1 restaurant 120 pers., 1 restaurant 100 pers., Sky bar 200 pers., Piano/cocktail bar 70 pers, well equipped restaurant galley.
All accommodations , cabins and restaurants newly renovated.
Ideas EUR 1.9 mil try def less on outr offers as Brokers.  All details wog.
.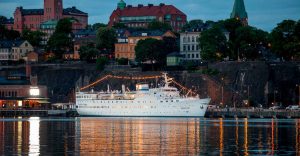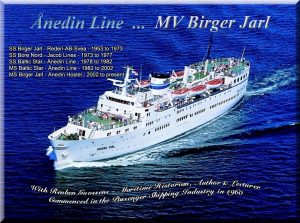 Vessel can be inspected where staying , alongside berth in mid Baltic Sweden side
Pls see videos:
https://www.youtube.com/channel/UCTgdcpu8rttWcUSdJtnkhbg/videos?view=0&sort=dd&shelf_id=0&view_as=subscriber