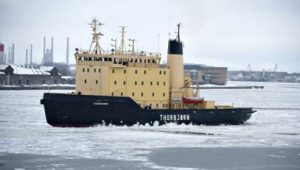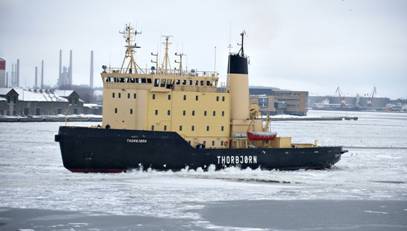 FOR SALE ICEBREAKER "THORBJOERN"
Built by Svendborg Shipyard AS, 1980
IMO No. 7904504
Length overall: 67.55 m. Length betw. p.p.: 60.00 m. Breadth moulded: 15.30 m.
Depth moulded: 4.70 m. Draft moulded: 4,70 m. Draft extreme: 5,00 m.
Gross tonnage: 2.164 Nett tonnage: 649
Speed max: 16.4 kn.
Max range 50 % load: 9.000 Nav.m.
Class: DNV new 1/2016 for 5 years on H/M
Ice Class 1A Trading area: World wide Sea area A3
Main engines:2 x B&W, Alpha type 12 U28LU Each developing 3.180 hp
2 B&W Alpha VB 1980 D 3.04
Propellers Auxiliary machinery: 3 x Cummings type KTA 1150G – 250/340
kva Bow thruster: 400 kw/500 hp Towing equipment etc:
Certified bollard pull: 54 t. Towing winch, max brake force: 40 t.
Hawser winch, max braking force: 5 t.
Air bobbling system
Approx. 250 sqm aft deck forwarded and rebuild for Helli deck.
Hydraulic crane: 3.8 t at 12 m arm. Mark: Thrige Titan Model: SRW
60-22 SWL: 8.000 HK DNV certifikat: 123383
Navigation equipment etc.
Electronic seacharts Accommodation for 32 persons. 26 single cabins
w/private bath/toilet + 3 x double cabins with heating and air
condition 1 hospital 1 Sauna 1 laundry with all equipment 1 Galley
with all equipment
Dining room for 32 person
ada-wog
The Ice Breaker is in condition like new with only 10000 running hrs. Located fairly close to Copenhagen airport.
We may arrange your inspections and guide on price/ terms etc details .